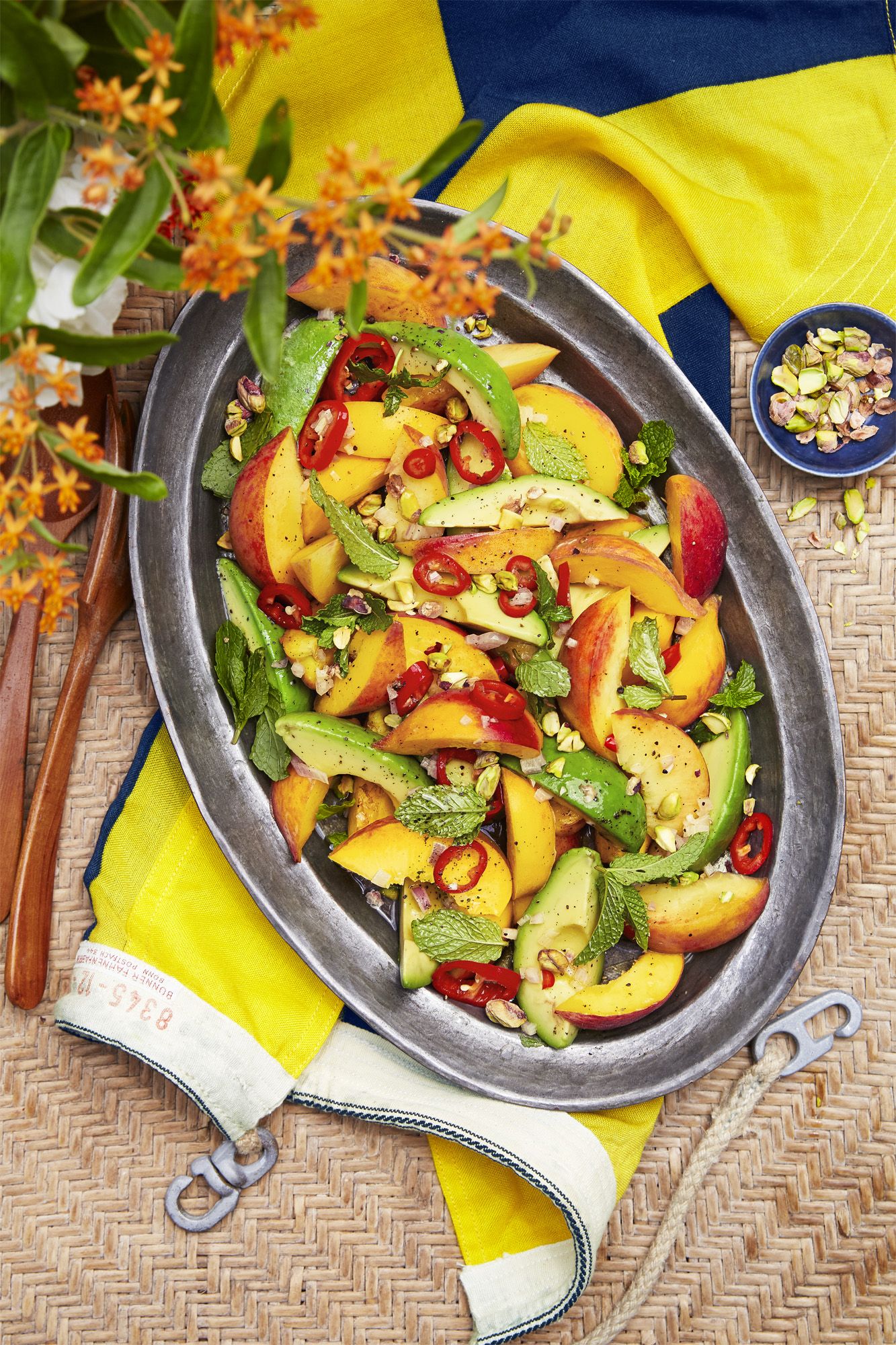 Maria Soboleva
14.06.2016
TOP-7 summer dishes - the best recipes for every day
On hot summer days, I don't want hot borscht for lunch and hearty meat dishes with a side dish. The summer menu is traditionally much easier, because when else do we have such a choice of the freshest vegetables, greens and fruits! It's time to cook cold soups, vegetable stews and all kinds of salads.
Cold soups
The summer menu cannot be imagined without cold soups, they are present in many cuisines of the world: these are okroshka, botvinia, gazpacho, tarator, beetroot, fridge.
They perfectly satisfy hunger and thirst, while very useful, because, mainly, they are made from dairy products and vegetables.
Tarator
Selecting recipes for each day of the week, include in your summer menu this traditional dish of Bulgarian cuisine. Our recipe is not strictly classical, because the addition of some ingredients often gives the dish a special taste.
Ingredients:
natural (savory) yogurt or kefir - half a liter;

fresh small cucumbers - 2-3 pieces;

radish - 6 pieces;

garlic - 5 cloves;

walnuts - 10 pieces;

vegetable oil (can be sunflower or olive) - one and a half tablespoons;

dill - 1 medium bunch;

ground black pepper and salt to taste;

cold sparkling water on request.
Recipe:
Prepare the necessary products - cool kefir, wash the vegetables and greens.
Radish with cucumbers, we chop large or cut into cubes (as you like), skip the garlic through a press, cut the dill.
Walnuts are chopped with a rolling pin or a blender.
Mix vegetables and greens, add salt and pepper, mix and leave for 15-20 minutes.
The mixture is filled with yogurt or kefir, if desired diluted with cold water. Add nuts and vegetable oil to tarator and serve on the table.
The basis of this cold soup can be: homemade yogurt, tang, matsoni, airan. And in general, you can experiment with greenery in plenty, choosing the one that you like best: parsley, basil, green onion, lemon balm, cilantro.
Gazpacho
And this cold soup comes from Spain. Invented once simple dish Andalusian poor. But over time, it was supplemented with some ingredients, and this taste was appreciated by many, try it and you include gazpacho in your summer menu.In the season of vegetables - the very thing, because just in the sale of the present abundance of ripe tomatoes, sweet peppers, cucumbers. What else you will need and how to cook cold tomato soup, look in this video:
Second courses
Cooking fresh vegetables is a pleasure. With their help, the summer menu can be varied to infinity. And experienced chefs know a lot about it! And they are ready to share their secrets with less sophisticated lovers of vegetable dishes.
By the way, not only specialized websites and forums will help to learn new original recipes for every day. Popular social networks are also famous for their culinary communities. There you can always borrow some recipe and please the family with a yummy.
That seems to be a traditional dish - vegetable stew. But what a space for fantasy! Various vegetables in any combination, with the addition of mushrooms, meat, seafood, legumes, spices, greens - and in the end we get completely different tastes.
Vegetable and mushroom stew
Ingredients:
zucchini - 400 grams;

potatoes - 300 grams;

champignons - 300 grams;

1 large onion head;

carrots - 1 piece;

sweet pepper - 2 pieces;

ripe tomatoes - 3 pieces;

cauliflower - 200 grams;

pepper, salt, any greens - to taste.
How to cook:
Peel and dice the potatoes, boil until half cooked.
Cauliflower divided into florets and also cook almost until ready.
Mushrooms cut into slices, fry with onions in sunflower oil.
Finely chop the carrot, zucchini and pepper, fry for about 5 minutes in a heated frying pan.
Peel tomatoes, cut into cubes and add to vegetables, stew everything under the lid for about 3 minutes.
Put all the ingredients in a saucepan with a thick bottom, add salt and pepper and simmer over low heat until ready. Before serving, sprinkle with chopped herbs to taste.
Baked potatoes stuffed with cucumber, cheese and shrimps
We will need:
potatoes - 8 pieces;

boiled shrimp - 300 grams;

chicken egg - 2 pieces;

fresh cucumber - 1 piece;

cheese - 100 grams;

mayonnaise - 6 tablespoons;

salt and spices - to taste.
Recipe:
Large potatoes properly wash with a sponge. Each tuber will be smeared with vegetable oil - then it turns out when baking is not dry and rosy.
We wrap the potatoes in foil and bake in an oven heated to a temperature of 190-200 degrees for about an hour.
In the meantime, the potatoes are baked, you can cook the stuffing. We clean the cucumbers from the skins, cut them into cubes. Cheese (better than hard varieties) stew on a large grater. To the cheese and cucumbers add peeled shrimp, chopped boiled eggs and mayonnaise.
From the baked potato with a spoon, extract the middle part, salt it inside.
Stuffing of shrimp, cucumbers, cheese and eggs, mix with the potato mass and fill it with our potatoes. You can sprinkle with grated cheese on top.
Tubers filled with filling, baked in the oven for about 10-12 minutes.
Summer salads
How else to support your body with vitamins, if not with a variety of salads? This dish is simply irreplaceable if you think over the full summer menu.
Salads will, of course, not be filled with mayonnaise, but useful light sauces based on yogurt or vegetable oil with additives.
Vegetable and feta salad
Ingredients:
White cheese - 250 grams;

fresh cucumbers - 1 piece;

Bulgarian pepper - 1 piece;

tomatoes - 3 pieces;

quail eggs - 7 pieces;

greens - to taste;

sour cream - 250 grams;

salt and lemon juice - to taste.
How to cook:
We crush the cheese, finely cut the vegetables and greens, quail eggs into slices.
In a sour cream add a little salt and lemon juice.
We fill our sour cream with vegetable salad, quail eggs and cheese.
Appetizing summer salad
Many people are embarrassed in salads that they quickly flow and lose their presentation, and their taste qualities too. Is it possible to cook a salad at the same time useful vitamin and preserving its appearance?
It turns out, yes. And the addition to the cereal vegetables will help in this: bulgur, couscous, wheat cereal steamed in broth.
See the detailed recipe for this salad in this video:
Dessert
A variety of fruits and berries allows you to include in the summer menu a variety of desserts - parfait, sorbet, jellies, maseduan (which names!), Mousses, soufflé, smoothies, homemade ice cream.
Fruit Pizza
Ingredients:
watermelon weighing about 600 grams;

Kiwi - 1 piece;

peach - 1 piece;

sweet cherry - 6 berries;

grapes - 5 berries;

raspberries - 7 berries;

gooseberry - 7 berries;

mint - leaves to taste.
Recipe:
Watermelon cut across to get a layer thickness of about 3 cm.
Cooking fruits - clean, remove bones.
Finely grind them - rings, slices, pieces.
Distribute the fruit evenly over the surface of the watermelon ring. Decorate with mint leaves, optionally with cream.Original fruit summer dish is ready!
Features of the summer menu
What makes the summer menu different from recipes for cooking in other seasons? An abundance of fresh vegetables, herbs and fruits? Of course yes! In addition, many dishes do not need heat treatment at all - to cook cold soup or salad, you do not have to stand at the stove.
In the summer menu, be sure to include seafood: in mussels, oysters, shrimp and other marine life a lot of iodine and protein, which is easily digested.
In summer, meat is better to replace with fish and chicken. And you should eat a lot of dairy products. Thirst for a very well quench a glass of cool kefir, airan or tan.
Take it to yourself, tell your friends!
Read also on our website:
How to cook Pu-erh: experts share the subtleties of tea drinking
Try the original pu-erh - a tea gourmet's dream. But it is not enough just to buy the original product - you need to brew a drink according to the rules. NewTea experts told us what kind of water is needed to make pu-erh and how to insist on tea.
Cool life hacking for cooking without kitchen equipment and equipment!
Do you want to cook food for a couple, but you do not have a double boiler? Need to clean the ginger, and forget to take the knife? Cooked would be homemade, fresh pasta, but how to do it without a pasta machine? Our useful life hacking will help you to cope with such tasks, which make it easy to do without some inventory in the kitchen!
Spice Guide: How Good Are Different Spices
In the 21st century, not everyone loves to cook and is able to do it, getting along with dinners in a cafe, delivery and hastily cooked simple dishes like cereal and dumplings. But even such banal dishes can play with new colors and tastes, if you add in them different spices! A detailed spice guide for beginners is waiting for you further.
25 cool culinary life hacking that will take your skills to a new level
Cooking is an integral part of our daily life, but sometimes it takes too much time. However, there are many life hacking, which can significantly facilitate your task and inspire the creation of new dishes. We collected the most interesting culinary tricks and kitchen lifehacks further!
Unusual vegetables from around the world, which seemed to be processed in Photoshop!
If you look at the markets of different countries, you can find many unusual vegetables for us - with outlandish names and the corresponding appearance. And some of them even look so unreal, as if they were processed in Photoshop! We tried to collect the most unusual vegetables in the world in one article - see for yourself!
What can you eat at the office to get energy for the whole day?
Not everyone has time to cook a full-fledged meal for work, but someone doesn't have enough time for lunch - so you have to think about what to eat in a hurry. And we just know what products are a useful snack, which will fill you with energy, and will not give those extra pounds!
You will no longer store these products in the refrigerator.
Often we do not hesitate to put all the food in the refrigerator, and do not even suspect that after cooling they lose their taste, pleasant appearance and useful properties. Live and learn! We are sure that after reading about the proper storage of food, you will definitely want to remove something from the refrigerator ...
After that, you will not eat shrimp! What do the producers feed us?
Gourmets in shock: it turns out that all frozen shrimps that we see on the shelves of shops are artificially grown abroad, and the growing conditions almost force us to abandon this seafood. What manufacturers feed us and how to choose shrimps from the range available to us - read on.
Top 20 prohibited foods
Prohibited foods are various dishes or ingredients that are traditional for some people and unacceptable for others. In this article we will tell you about 20 products that can not be used in certain countries.
The most expensive and rare fruits of the world
The fruits of the world are the rarest and most expensive fruits collected on our planet. Each fruit has its own history and belonging to the culture of its country. In our article we have collected some of the best and quality fruits of the world.
Do you know how to pickle watermelons?
Pickled watermelon - what recipes of its preservation do you know? What is the highlight of this dish - as far asCombine sweet and salty tastes? How to prepare melon culture in the banks for the winter, which of the spices and additives will give seaming a unique taste - get acquainted with a selection of interesting recipes.
Cooking homemade mayonnaise: the best recipes
Increasingly, it is asserted that the popular sauce, exhibited on the shelves of stores, is an achievement of the chemical industry rather than the food industry. To learn how to make homemade mayonnaise and thereby protect your loved ones from harmful additives, read in this article.
Related news