Olga Nagornyuk
30.09.2014
The history and aftermath of the celebration of Halloween
... wrong cover file extension ... Halloween as a holiday came to the post-Soviet expanses relatively recently, about two decades ago. A lot of articles have been written about traditional Halloween games and their origin, so you shouldn't repeat it. It can only be noted that Halloween and All Saints Day are two completely different holidays that have nothing in common. The first originates from Celtic paganism, the second was established by the early Christian Church in opposition to the old Celtic tradition.
So what do people expect from Halloween? It's no secret that this holiday is commercially successful, many shops specialize in selling branded merchandise. Halloween games are usually carried out with reincarnation into representatives of the afterlife. For Slavic peoples, the tradition of celebrating on the night of October 31 to November 1 is usually associated with cheerful dressing up in costumes of witches and devils, noisy parties in clubs and cafes.Most people do not invest in this action religious meaning, although there is one. The tradition of celebrating Halloween is inherited in our country not massively, but more by young people. Guys and girls dressed in evil costumes hardly suspect the religious essence of this rite. Then a completely natural question arises: how does a pagan festival relate to the Christian worldview that is traditional for us and is it advisable to appear in our life?

On the night of November 1, according to the beliefs of the ancient Celts, the souls of the dead were allowed to visit their loved ones, if the god Samhain would be pleased with the sacrifices. Thus, this tradition will personify the transition to winter, opening the doors of the dark world. For the Slavic peoples who are alien to paganism, the holiday is just another reason for folk festivals. So is it worth for those who identify themselves as Orthodox Christians to insult their faith by observing satanic rites? From the point of view of the Orthodox Church, many Halloween games are spiritual treachery. Even during the time of the Russian Empire, this pagan holiday was banned as alien to our people.The Holy Fathers are categorical in their opinion on this.
Among the representatives of acting skills there is an opinion that the roles of all kinds of evil spirits bring failure and even the death of performers. There is a lot of evidence of this in both domestic and foreign cinema. Acting roles in the works "Viy" and "The Master and Margarita" are notorious, this is understandable, given the clearly religious content. Natalya Varley, the performer of the role of the young lady, considers this role fatal in her life. She married three times, but no marriage was happy and durable, not counting the many diseases that plagued Natalia after the shooting.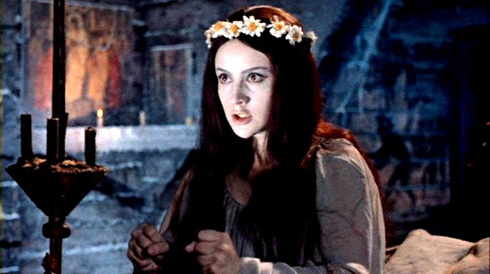 The film "The Master and Margarita" became fatal for the leading actor Anastasia Vertinskaya - this role was the last major in her career. Shortly after the release of the film in the rental she moved away from active stage work. In addition, some film crew members have left this world.

As for the foreign cinema, the "Poltergeist" trilogy was the last work for almost all the main actors.
A creative person is hypersensitive and receptive to the world of magic and witchcraft.Therefore, the theatrical scene and the set is a special place for each actor, endowed with a certain aura.
To the naked eye, one can see how the demonic movie roles affected the real life of the actors themselves. Halloween games also include an element of fitting the images of the inhabitants of the afterlife, which is a denial of human nature. So is it worth tempting fate in this way? Listen to your inner voice - the correct answer will not keep you waiting.
Take it to yourself, tell your friends!
Read also on our website:
Halloween: Should I Ban? (Poll)
Regional ministries of education do not recommend celebrating Halloween in Russian schools. But there is no official ban on this holiday. The network offers scripts for "school Halloween", and in stores there are stands with holiday attributes.
Halloween is a scary guide between us and dark forces.
If you are in your right mind, think: why are you celebrating the coming into this world of evil forces, demons and the devil? This impure force exists in order for a person to suffer from various diseases, be in a depressed state, become angry and irritated.Particularly affected by demons are children ...
What after Halloween?
Halloween celebrates the celebration of Halloween as a sin if you are celebrating this holiday yourself, and a grave sin if you involve children and other people. Do you know about the disastrous consequences of this "fun" holiday?
Is Halloween harmless?
Halloween is not as harmless as it seems at first glance. Do not be fooled!
Daredevil and Halloween
Halloween is a celebration of evil spirits. Be alert while celebrating it.
Original Halloween Games and Contests
Halloween is soon - a holiday shrouded in many secrets. In this article you will learn which games and contests will make it unforgettable. The thrill you provided - get ready for an explosion of emotions and feelings!
Do it yourself halloween costumes
The article tells how to make with your own hands the costumes of a witch, a vampire, a mummy, Caesar, ghosts, etc., to Halloween. The process is painted step by step.But if the time before the holiday is not enough, then everything can be rented or purchased in the online store.
Magic dishes on Halloween
In America, this holiday, which has a huge commercial success, is celebrated by almost everyone. By popularity, it is in second place in the ranking after Christmas. Gifts, costumes, menus are thought out for a long time, tables in cafes and restaurants are ordered.
Halloween Games and Fun Competitions
The tradition to celebrate Halloween has taken root in our area. Scary and fun outfits, provocative contests, a sea of ​​sweets and traditional Halloween games. All this comes annually to people's homes under the banner of the most terrible and fun holiday.
Halloween games can be dangerous
This night, Halloween games and traditions associated with it, can hardly be called a holiday. Rather, a public walk, mundane and unofficial, in the style of horror films. In essence, this is a party of people in the form of evil, a celebration of magic schools and communities, the coven shown in films and described in books.
Halloween: do not play with death
Thick autumn night. Passers-by hurrying in costumes of witches, vampires, werewolves to a party ... Halloween games - the anticipation of stormy mystical fun excited the brain and imagination. Somewhere in the subconscious, fear and an obsessive thought firmly sat down: "Or maybe not worth it? Don't play with death? "
Related news
The history and aftermath of the celebration of Halloween
The history and aftermath of the celebration of Halloween
The history and aftermath of the celebration of Halloween
The history and aftermath of the celebration of Halloween
The history and aftermath of the celebration of Halloween