Indoor plants - photo and tips on caring for deciduous species
Growing leafy plants indoors, you should understand that a room is far from a natural habitat for flowers. Many of their species come from the tropics or arid regions of the planet. Therefore, in order to observe the greens all year round, it is necessary to create for the flower the most favorable atmosphere, suitable for native climatic conditions.
Some plants like humidity, some, on the contrary, are accustomed to dry air. Some flowers must always be warm, for others it is destructive. Choosing flowers of different types, look for those whose preferences are similar. So look after them will be much easier.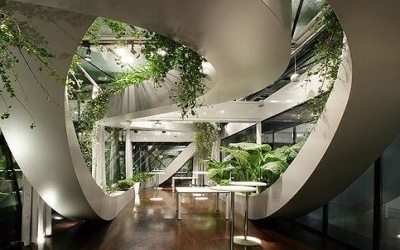 Today we will focus on two quite popular in recent times.
One of the most common ornamental deciduous plants is aglaonema. This flower comes from the tropics, so it loves moisture, like other tropical indoor plants. It can be seen below. Also aglaonema likes diffused light and heat.In summer, the plant needs watering much more often than in winter. Watering should be at least once every two days. The soil in the pot should be constantly wet, as in the native environment aglaonema lives near water bodies. The flower grows slowly and usually reaches 70-75 cm in height.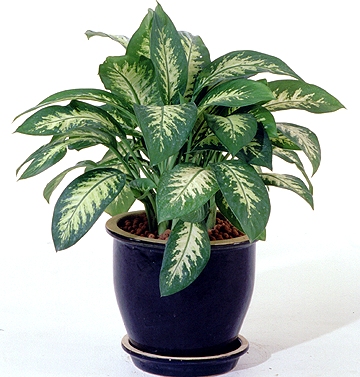 It is worthy to decorate the room for a long time beloved by many gardeners dracaena. This leafy plant, which with age acquires a strong trunk. Because of this, the dragon tree is often confused with a palm tree. This plant is best grown in a spacious room. Dracaena leaves reach 30–40 cm in length and 8–10 cm in width, and they grow to 2–3 m. Although there are species that do not exceed one meter in height. This point should definitely be clarified before purchase, knowing in advance which of the rooms you will determine the flower.

Dracaenas love diffused light and humidity. They are easy to clean because they do not require frequent watering - once a week is enough, but always with distilled or boiled water. Due to this dracaena almost the most popular indoor plants. See below for photos of an adult flower.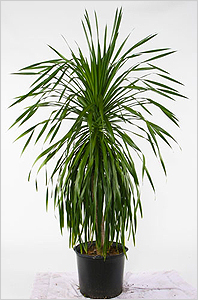 Today you can hardly find apartments, houses, offices that would not decorate indoor plants. Photos and pictures of flowers are also popular.but no picture will fill your home or office with life energy and will bring so much benefit to your health as living plants.
Take it to yourself, tell your friends!
Read also on our website:
"Women's happiness" - the rules for the care of indoor flowers
It is said that the indoor flower "female happiness" brings good luck to girls in love. No one can say for sure about the affairs of the heart, but it is a pleasure to take care of the housewives! Useful tips on irrigation, light mode and replanting are in the article.
4 types of unpretentious indoor palms: how to care for them?
Do you want a constant reminder of hot summer days by the sea at home? An indoor palm tree will help you - this easy-to-care flower will decorate any apartment! With the help of the article you can choose the appropriate type and learn about the features of care.
Flower "Christmas Star": the right care for the fuss
If you are attracted to indoor flower "Christmas Star", pay attention to some of the features relating to his care.In fact, the plant is very capricious, but with the right content it pleases its owners with beautiful flowering every season.
When and why transplant indoor flowers?
Your plants on the windowsills no longer bloom and grow, yellowed and weakened? Perhaps they need new, more spacious pots. To find out that the time when it is just necessary to repotted indoor flowers has already come, use the tips from our article.
Flowering ornamental plants in winter - the best photos
In the summer, you don't pay much attention to the flowering windowsills - there are so many bright colors around! But when the snow outside the window - flowers, and even bright, and attracts the eye. Let's look at the ornamental plants blooming in winter - the photos are fascinating for the variety of color palettes.
Houseplants - a variety of euphorbia photos
Houseplants - photos of euphorbia are widely represented on sites on floriculture, they delight and surprise with their diversity. For all their dissimilarity against each other, euphorrhoeas almost like the same conditions. To learn how to properly care for them, read this article.
Indoor plants - photo unpretentious Sansevieri
Houseplants - the photos we picked up are considered very unpretentious. It is a sansevieria, more commonly known as a teschin tongue or piketail. Learn how to care for her, and you will surely make friends with her. It is possible that she will thank you for its flowering - a scattering of greenish-yellow flowers that emit a delicate scent.
Indoor plants - photos of cacti
Houseplants - photos of cacti - are widely represented on the Internet on thematic portals. They are very diverse: their family includes about 2,800 species. These plants are considered unpretentious, but you need to know some secrets so that they grow healthy and at least sometimes pleased with their flowering. What exactly - read here.
Indoor curly flowers: from the hallway to the loggia
Potted plants mostly unpretentious enough. They are shade-loving, so consider this when placing them in one place or another in the apartment. Water and spray must be regularly.And what else you need to know about your favorites, this article will tell.
Growing violets correctly
House flowers - photos of violets can be found on the Internet in a large assortment. Violets are very diverse, bloom almost all year round. At the same time you need to know the basic rules of care for them, so that the plant is strong, healthy and delight you. If you want to start violet, read these rules.
Potted plants - names and photos of the most viable flowers
There are always flowers where people live in an apartment, and not just come to sleep or change clothes. As in happy, loving families, in which comfort, kindness and positive emotions reign. You adore indoor plants - the names and photos of them are so diverse that there is not always enough time, knowledge and experience to sort them out and grow an exotic or rare flower. Do not worry, there are very viable specimens.
Houseplants names and photos - arrange flowers in the apartment
In any apartment where there are no flowers, some kind of emptiness is felt, there is a lack of a sense of life, comfort, an object on which the eye would stop,and the heart was filled with warmth. Houseplants names and photos firmly entered our city life. Where there are flowers, human love is always present. Pets are living organisms that bloom, pleasing and warming their souls, generously responding to care, affection and tenderness towards them.
Related news