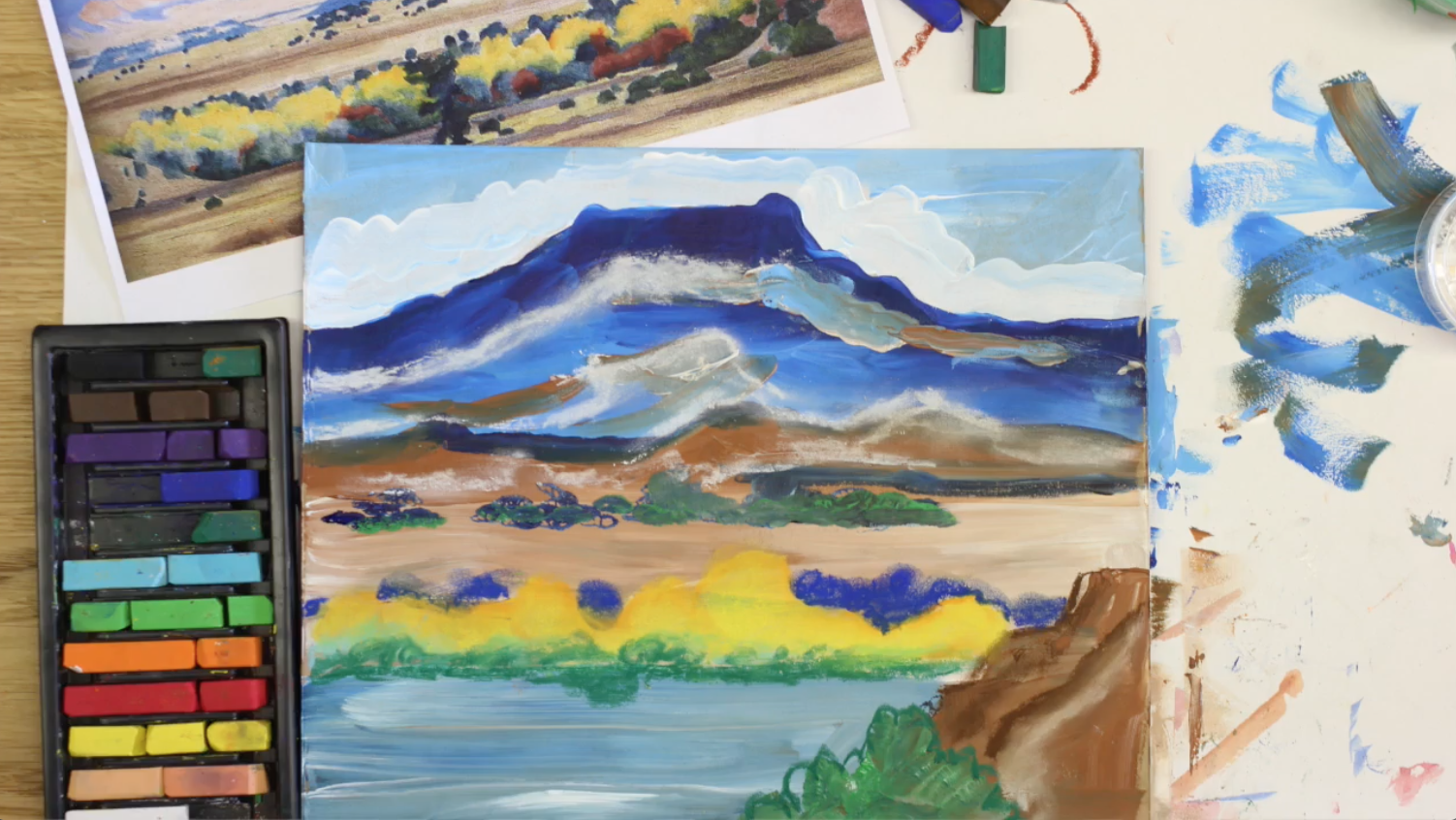 Anastasia Sergeeva
22.03.2017
How to learn to draw with pastels? Master class for beginners
Pastel is a favorite art material for many artists, but beginners in the early stages of using pastels face certain difficulties. Therefore, we will further try to explain in an easy way pastels for drawing, how to work with it, and present an uncomplicated master class with photos, where you will see an example of how to draw a beautiful still life with pastels. However, we still advise before starting to get acquainted with the pastel techniques, to gain confidence in the basis of the basics - drawing with ordinary pencils.
Types of pastels
Pastel is sold in the form of bare rods, similar to crayons, and pencils. It is distinguished from other artistic materials by its softness and velvety structure, which is achieved due to its composition - a binder and a coloring agent, that is, a pigment. These qualitiescause another peculiarity of using pastels: it doesn't hang well on paper and can crumble when shook or otherwise physically exposed to a sheet of paper.
Today in the shops of artists you can find four types of artistic pastels: dry, oil, wax and watercolor.
Dry pastel
The most popular type of pastels, which draw, both beginners and professional artists. Depending on the content of the binder, it is divided into hard and soft - the smaller it is, the softer the rod.
Hard pastel will not be able to achieve such bright colors as with soft. But it is easier to draw small and fine details, especially if you draw with pastels in the form of pencils. It crumbles less and does not stain hands so much.
With soft pastels, you can create sweeping strokes that lie flat on the paper and are easily shaded, but for beginners it will be difficult to control this malleable material.
Oil pastels
The composition of the oil pastels contains mineral oil substance, which allows it to lie well on the paper and not crumble, and do not get your hands dirty.True, such a matte effect, as from a dry pastel, with it will not work, and just as easy to shade it will not work - you have to resort to using a brush and water, or a special solvent. But accidentally lubricate it will not be easy.
Wax pastel
It resembles oil pastels in color, brightness, application and intensity strokes. As part of her another binder: not oil, and wax. Because of this, it is more difficult to achieve color mixing, and if the crayons are cheap, where paraffin is used instead of wax, then color transitions will not work at all. Professional artists almost never draw wax crayons.
Watercolor pastel
And this type of pastel has a more unique wet structure - all because of the content of water-soluble components. In its usual form, it is applied to paper as a solid pastel chalk with a wet effect, and when added to water, it acquires watercolor properties. It is often replaced with watercolor pencils, since such pastels can be used to paint solid touches and achieve translucent shades.
See also: How to learn to draw with a pencil: help for beginners
Additional tools
What paper is better to draw? Since dry pastel is very easy to crumble, you have to abandon the ordinary, smooth A4 office paper and go to another work surface, which has a pronounced rough texture. This can be postal, sandpaper or pastel paper, canvas or special cardboard.
Learning how to draw with pastels is possible even if you have nothing but paper on it. But with the help of additional materials and tools, the process of creating a picture becomes much easier, faster and more convenient. It:
Feathers or brushes - are silicone and paper. They are very convenient to shade small details of the picture, for which not enough feathering with your fingers.
Eraser-klyachka - they can you lighten the pattern with pastels, or gently erase the excess without harm to the paper.
Mustabel - a special device in the form of a long stick with a soft fabric or suede ball at the end, which serves as a support for the artist's leading hand and allows him to draw, without touching the drawing, so as not to smear it. With the second hand, the artist supports the stick, and with the ball rests on the canvas or takes it beyond the boundaries of the drawing.
Fixative is a lacquer designed for fastening pastels, both in the process of work and at the completion of the entire pattern.Often replaced by ordinary hairspray, but it makes the image darker and can deprive it of haze. Therefore, many refuse to lacquer fixation and put a pastel pattern in a frame under the glass, and so that it does not touch the paper.
Features of drawing by dry pastel
Beginners are better off first learning how to learn how to draw with dry type pastels, since it is easier to handle in comparison with other species. It should be said that pastel drawing does not imply any clear rules - the artist is free to experiment with technicians. However, there are certain nuances:
A preliminary sketch, the outline of the future picture should be done with a piece of pastels of not too noticeable color - it is better to pick it up in tone paper. For white paper, use gray chalk, or charcoal, which you can then simply shake off; for color paper, use a chalk of an appropriate or similar shade.
Do not make a sketch with an ordinary graphite pencil, otherwise the pastel will fall very badly on it.
It is necessary to draw with chalk "flat", putting at first the background and all the primary colors, painting over the area of ​​the paper.First, it is better to apply and shade black and white colors, if they are present, and then move on to other shades. If the type of pastels allows, then do not forget about mixing - with its help you can achieve interesting gradients and colors, which you do not have in the palette.
Having decided on the color scheme, you can finally start detailing the picture: the appearance of volume, the refinement of silhouettes, shapes. At this stage, you can draw using hatching, applying dots, separate strokes, lines, etc., depending on what task you are faced with and in what style the drawing will be done with pastels. Do not be afraid to leave the main parts undrained, so that the drawing does not look "soapy".
Related article: How to draw with charcoal? Master class for beginners
How to draw with pastels: a master class for beginners
From theory, let us move on to practice and learn how to draw a pastel still life from nature. Of course, you can try to draw it simply from a photo. We will need:
pastel paper;
dry pastels;
pastel pencils;
plywood sheet;
soft cloth.
In the presence of an easel, the task is facilitated, but its similarity can be made from a chair and a plywood sheet, backing it and putting paper on it so that pastel crumbles there and not immediately on the seat.Arrange a flower arrangement (or photo) side by side so that it is in front of your eyes and it is convenient to draw it. Prepare your hands - wash them so that they do not have fat, and wipe dry.
Working process
With a pastel pencil we draw a sketch of a bouquet on paper. It's okay if it isn't perfect or crooked. The main thing is to keep the proportions of objects, for example, so that the flowers do not make up more than a vase. If you have done something somewhere, don't be in a hurry to use an eraser - you can paint over the contour right from the top, and if you erase it, you will get more worn paper.
Parse the image by local colors. We are dominated by yellow, blue, green and blue. Determine where the main color spots are: yellow flower, green apple, blue vase. Paint over them and shade with your finger. And to clean the hands from pastel of one color and go to the shading of another, use a velvet cloth.
To understand how to paint on the canvas color spots, defocus your eyes and look at the photo or still life. You can even specifically blur it in the photo editor, as in the picture below:
Do not forget that colors can be made more saturated and mixed to get a new shade - like this:
Tip: for white objects, you should not use white pastel, since it will come in handy later to give a glare. Decorating objects, white can replace, for example, light bluish chalk.
When finished with color spots, we begin to create volume, light, shadows. Sometimes we move away from the canvas to evaluate the result not only at close range. Depending on the color of the selected paper, the background may not be worked through, but we will add a little blue.
We go from the general to the particular and work out the details, small objects - we specify the shape of the petals, outline the edges of the vase, etc. Add highlights to the white chalk.
So we learned to draw pastel still life! The drawing looks complete even at this stage. If you want to go further, then work more on the background, details and adding shades.
The following video workshop on the drawing of fruits will help you to learn how to transmit glare, light, shadows, penumbra and reflex using dry pastels:
Read further: Zentangl for beginners: we draw and meditate
Take it to yourself, tell your friends!
Read also on our website:
Lettering for beginners: how to draw letters and make money on it
Even if the word "lettering" itself seems unfamiliar to you, you've probably already met it many times in life: on fashion cards and invitation cards, on world brand logos, on chalk boards in a cafe ... Do you want to be able to draw in the same way, and also make money On this? We offer to master lettering for beginners!
How to draw pop art: the easiest master class for beginners
Want to learn how to draw in the style of pop art, but do not know where to start? In this article you will find an easy and understandable master class, which will show what are the main elements of pop art, how you can combine them with each other and create simple classic images in this style.
Zentangl for beginners: draw and meditate
A meditative drawing technique called zentangling is becoming increasingly popular among creative and harmony-seeking people - a seemingly complicated, but really simple and fascinating process. What is zentangl, how it differs from a zendudl, how to draw patterns for it - see our article.
How to draw in charcoal? Master class for beginners
Coal graphics were known during antiquity, when the ancient Greeks began to receive this material from charred wood. Since then, they prefer to use many artists to create interesting drawings and paintings. Want to learn how to draw with charcoal? Pay attention to this article.
How to draw a man's face with a pencil?
The ability to paint portraits can be not only your hobby, but also a joy for those around you who will receive beautiful drawings from you. So how do you draw a man's face? Arm with pencils and follow our recommendations.
How to learn to draw with a pencil: help for beginners
How to learn to draw with a pencil? What are the necessary accessories for drawing, to which novice artists should pay attention first of all and what techniques to master - you will learn about all this in our article.
Related news