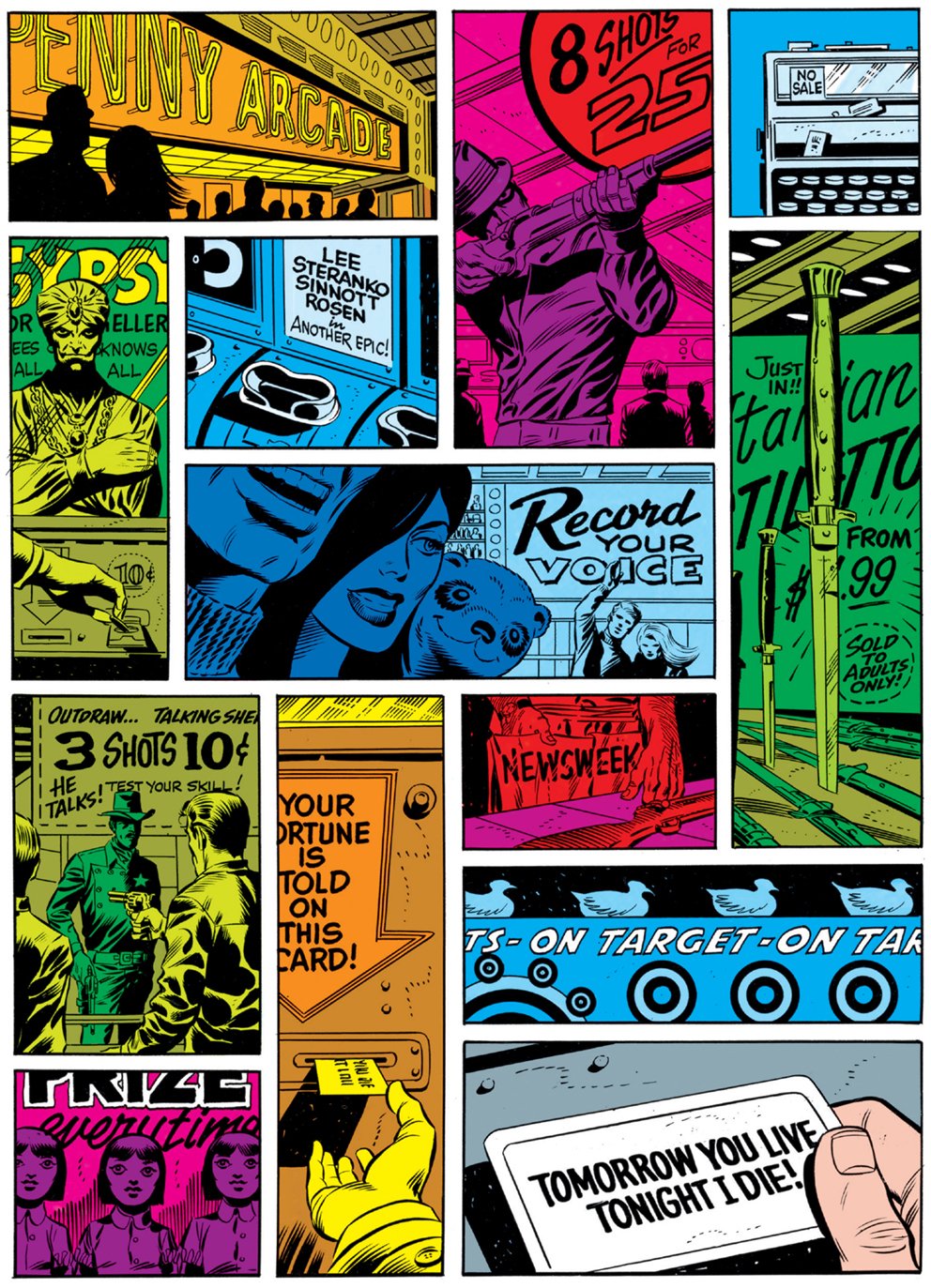 Comic book semantics and locus of control
I will give an example from the popular TV seriesAlteredCarbon. Imagine yourself in a real life situation: you are on some kind of war and you are going to equip yourself for a combat exit. A friend tells you:
- And take another "efku" just in case.
The same situation in the series looks like this. Comrade firmly puts this grenade in your hand, holds his hand to look at you in a piercing and meaningful way:
- This is what you need.
They do not speak in this series on the human language at all. Listen up.
- I won't let that happen.
- You will be disappointed.
- I'm here to destroy.
People in ordinary life convey all such meanings differently. And in the now deadly genre of feature films, the characters spoke very close to real vocabulary. Is the difference significant? - Very, very.
For illustration, I will give a case from life. I rested with the girl in a remote place. A huge lake, silence.Besides us, only a couple of hunters were present. In the evening they drank vodka, as expected, but in a strangely small amount and quietly went to bed before midnight. In the morning, pumped up the boat and began to start the engine. We heard their every word. They called each other something like "Mikhail" and "Vyacheslav", and said something like this:
- Michael, give me the cross-head screwdriver, please.
- Perhaps the problem is with the spark plugs?
We had the firm conviction that they were aliens disguised as humans. Only their vocabulary and manner of speech, they learned from the Soviet cinema of the mid-century and some semi-fiction.
ithighlycuts off hearing.
In comics and in modern video production (serial films and TV shows themselves) of the comic type, everyone says such "slogans". Not a word in simplicity. All the time, aphorisms, "subtle" hints and deep prophecies are cast in granite.
Yes, technologically this is understandable. The text bubble is small - most of it is in the picture, and in the video mix it is action. Therefore it is necessary to insert the maximum information into the minimum volume. And this can be done only with broad connotations.Any phrase should refer to the myth, any phrase should reveal the deep inner world of the hero. Therefore, it is not "I will not leave," but "the duty of the Initiate is to remain."
And in the chivalric romance, too, should have its own semantic style? - Right. The count cannot turn to the baroness with a sentence: "Open up, baby?" There should be: "Your eyes, beautiful Diana ..." But we don't know, because the graphs really did not say that. We are simply trying to imitate their way of thinking in such a way that the behavior of the heroes of the novel coincides with their motivation. Why is this count rushed for three dangerous armed healthy men? - Oh, for the honor of the ladies ... Then I understand.
The way of communication and the way of thinking determine and create each other. Now our way of communication is the television series, comics and television series comics. In all modern serials, the comic language is present to some extent. And this share is growing to the detriment of the old formats.
And do not think that if you do not look and do not read this, then it does not affect you. You can not watch TV, but he still watches you. After all, you communicate with people who watch it and even do it themselves.Do you manage to communicate with them? So they speak another language. So you speak it. So, your way of thinking is not what it was yesterday.
The concept of "superman" underwent a global correction in the context of comics.
Antihero is a special kind of heroes. Not all of them were invented in the 1990s, but it was at this time that they became popular and common. The antiheroes of the nineties are the complete antipodes of the superheroes of the Silver Age comic. They may be completely absent any qualities of the hero. They are clumsy and pitiful, rarely fully devoting themselves to their mission. Without hesitation, they go to kill the villains and often just those who stand in their way, and when they meet with the classic superhero, they make fun of his old-fashioned way.
Another invention of the modern century was the anti-villain. Anti-villain is a villain who has the traits of a hero. Sometimes he pursues noble goals, but does not hesitate to apply the methods of villains. Some authors, carried away by the idealization of the negative character, make the anti-villain no worse than the villain.
The present superman in the postmodern interpretation turns out to be similar to the Epicurean conception of a god who is all powerful and absolutely blissful, from that he does not care about people.He, like the superman Nietzsche, is beyond the edge of Good and Evil.
The result is a complete deconstruction of the superhuman image of mass culture. The former image was "disassembled" and again "assembled" in multiple semantic invariants, which created a superhuman plurality, through which the status of superman was devalued. The concept of superman itself continues to be present in the continuum of postmodern culture, but it loses its original meaning, becoming a simulacrum.
Now the image of the superman does not enter into a dialogue with cultural values, does not support them, does not approve new values, because within the framework of postmodernism, metanarratives, to the invariants of which the classical concept of superman belongs, are impossible.
And all these heroes are buried in endless self-reflection. Not only are their images blurred for the viewer and reader. So they still actively do not understand anything about themselves.
This is not only in comics. It is everywhere. Good cannibal Shrek and the evil witch Maliifisent as a positive character. Yes, and these children's books about the fun Kakashka - from the same place.
Yes Yes.You didn't read comics about the Dark Knight, but you didn't watch cartoons about Shrek? And your children are there. Would you like to talk with your own and compare your concept (Nietzschean, communist or religious) of superman and them?
And now about the locus of control.
Phrase"You will need it"instead"Take the grenade"has its depth. In words"I'll take a grenade"there is a decision, a desire, an awareness of the goal, an understanding of how to achieve it. And it all comes from within the person himself."I need a pomegranate"- weaker, there is more need, compulsion."Need"- this is the influence of the external situation, the oppression of circumstances, imposed, forced by something or someone decision. This is a solution to the external locus of control.
"You will be disappointed."instead"I will not let you do this.". An external antagonist will experience even more external disappointment. External locus.
"I am meant to ..."instead"I intend to".And this is not about duty of duty in the form of duties of a sentry, but about the general motivation of behavior. Some kind of external locus its intended somewhere. And it doesn't matter at all whether he is lying here and to whom.
Great picture? Heroes do not have clear goals,they do not understand their place in the world, they always doubt, they do not distinguish Good and Evil. That is why they say so. And they think so because they say so. If they themselves do not lead anywhere, then something external leads them. And they are submissive to such a fate, it is normal for them.
The way of communication is now. These images, this speech and this way of thinking are transmitted through channels between people.
The heads of state of the West simply grew up in this. And they speak that language. And who writes speeches for politicians? - Those who did not take writing the comics themselves. In their way of thinking, there is always an external locus of control. Even the appropriate terminology - "the empire of evil", "axis of evil", came from comics.
For example:
- Russia should go away and shut up.
External for the author, Russia owes something, but not to it, but to some other more external locus. And not to do something that else could be considered as a personal desire, and not to do anything. Common speech.
In general, Russia itself is now viewed by the West as an external locus, where the West places the causes of all problems. In the most caricatured and absolute form, this is expressed on their current test range - in Ukraine, there are no internal reasons for anything at all.In all the trousers they imposed an external locus, and the only goal - to defeat him. But in the West itself is essentially the same scheme.
In the comic way of thinking, the external locus has another important feature - it is not clearly defined and not fixed.
This makes it easy to change it at any time for tactical purposes. This gives excellent policy flexibility. Otherwise it is called unprincipled.
Imperatives are always inside (voluntarily accepted or driven by force) and unchanged. But the tactics of action with respect to an arbitrarily changing locus can always be different.
They do not deceive us when, comparing Kosovo and the Crimea, they say that there was a "different case".They really think so.For them in different cases there was a different locus, they basically do not distinguish between good and evil. That is, of course, they always consider their own interests within the framework of their Hottentot morals to be good. But the methods do not distinguish. Any action against the locus designated by evil will be good.
Therefore, from their point of view, no double standards have been applied. They always acted the same way. Just the loci were different. And they, in fact, do not choose them.This is fate, fate, coincidence. The Augurs announced that the locus would now be there.
This is just a plot of our comic strip. And someone there must necessarily overtake frustration.
Related news